Even the Kiwi's Love Port Douglas
Port Douglas has become a great man-made paradise, writes Kurt Bayer.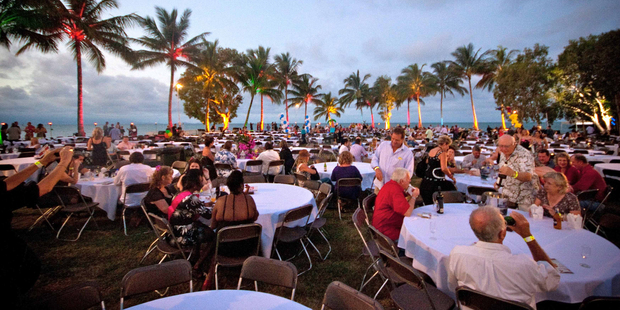 Enjoy outdoor dining at the annual Port Douglas Carnivale - a celebration of local food beverage and culture, which is held in May.
The thing about paradise is that its pitfalls soon become apparent: no air-conditioning; overcrowded; plagues of locusts; the lonely, talkative bartender; E. coli.
In the 1980s, however, Australian businessman Christopher Skase thought he'd really found the spot. He opened two sprawling Mirage resorts at Port Douglas, a relaxed seaside village in tropical Far North Queensland, which quickly became a playground for the rich and famous.
However, Skase's business empire crashed spectacularly and he fled to Spain as one of Australia's most-wanted fugitives. But what he left behind has been built upon. Mindful of the natural beauty in which its success lies, it has become the ultimate man-made paradise.
The only place where two World Heritage-listed areas collide, the Daintree Rainforest and the Great Barrier Reef, the reasons to go are compelling.
It's the ideal escape from the Kiwi winter given its balmy year-round temperatures and it's a mere four-hour hop from Auckland.
It's even more tempting if you're a wandering foodie. The annual Port Douglas Carnivale will celebrate 20 years this May 16-25. The celebration of music, arts, sports, cuisine, culture and entertainment has grown in ambition, and many leading Australian TV chefs now come to impress the crowds, including My Kitchen Rules judge Colin Fassnidge and Massimo Mele.
The festival kicks off with the Sheraton Mirage Longest Lunch, featuring high-profile guest celebrities. After lunch, head into town to take in the Mardi Gras atmosphere of the Macrossan St Parade. The feast of food options includes Food Wine and a Taste of Port, an eight-course degustation at Palates of Port, A Taste of Paradise and the Seafood Extravaganza.
You could eat out every night of the week and not be disappointed with the quality on offer. The $10 T-bone steaks, Italian/Japanese fusion and the legendary Salsa Bar & Grill match anything Melbourne or Sydney could offer.
But the jewel in the crown is Harrison's Restaurant, run by Michelin-star chef Spencer Patrick whose looks and culinary inventiveness seem styled on UK celebrity chef Heston Blumenthal.
The knockout menu is alone worth a four-hour flight. The chateaubriand is legendary; a 14-hour slow-cooked lamb "ras el hanout" falls apart at the slightest touch, while barramundi and clams are the star local turn. But it is Patrick's wizardry that steals the show.
Some recent entrees include a bewildering smoked beetroot amuse-bouche, and pork crackling served in airmail envelopes.
The dessert highlight, with a nod to aged punk-rockers who now prefer mochaccinos to mohawks, is a custard pie served with a Sex Pistols Never Mind the Bollocks album cover and syringe to inject the divine yellow filling.
Harrison's organises the Taste of Paradise event for Carnivale, which includes demonstrations from top chefs. The event is awash with craft beers and Australian wines, local produce and restaurant offerings.
Apart from eating, there is no shortage of things to do in the region.
The Great Barrier Reef is a must with tours for all ages, shapes and sizes.
The snorkelling or diving is extraordinary, up close with hideous 400kg groupers, "generally passive" white-tipped reef sharks, inquisitive turtles and a zillion types of colourful fish and coral reef.
And then there's the rainforest. About 140 million years old, it's the oldest living tropical rainforest on Earth - damp, spooky, loud and brilliant.
There are also crocodile river tours, Aboriginal art, game fishing, helicopter flights, kite-surfing and backpacker pubs to enjoy, as well as lying on the beach and finishing that latest Man Booker Prize-winning novel.
To have the wonders of reef and rainforest coincide is remarkable in itself. But to have it near such a classy and affordable service town is truly astonishing.
Paradise may be described as "a religious or metaphysical term for a place in which existence is positive, harmonious and eternal".
Try out Port Douglas, then. God, it's good.
ACTIVITIES
Sail to the Great Barrier Reef on the luxurious 62ft catamaran Aquarius, and go snorkelling.
Hartley's Crocodile Adventures
Located between Cairns and Port Douglas, Hartley's is the best place to get close to crocodiles and wildlife in Tropical North Queensland.
Windswell kitesurfing and stand-up paddleboarding
Kitesurf or stand-up paddleboard along pristine Four Mile Beach at Port Douglas, Mossman River, or among turtles and coral at Low Isles.
Grub's Personalised Trike Tours
A novel way to see the area with family or friends with panoramic views from Flagstaff Hill, Four Mile Beach or St Crispin Station.
CHECKLIST
Getting there: Qantas connects from Auckland to Cairns. Port Douglas is 70km north of Cairns along the Captain Cook Highway.
Accommodation:
Peninsula Boutique Hotel has beachside apartment-style accommodation within walking distance of shops, bars, restaurants and the marina.
Daintree Eco Lodge & Spa is known as the "most pampering eco-lodge in the world" with 15 rainforest, tree-house style bayans.
Further information: This year's Port Douglas Carnivale runs from May 16-25.
Kurt Bayer travelled as a guest of Tourism Port Douglas & Daintree.